Thank you for your interest in adopting a fur baby in need of a loving family! Please complete the application below and an adoption coordinator will be in touch with you to discuss your application and see if we have a good fit for you!  --- PLEASE BE SURE TO MAKE SURE ALL FIELDS ARE COMPLETED, AND YOU RECEIVE A GREEN MESSAGE AT TOP OF SCREEN SAYING YOUR APPLICATION HAS BEEN RECEIVED. IF YOU ARE UNABLE TO COMPLETE APPLICATION, TAKE SCREEN SHOTS OF THE APPLICATION AND MESSAGE THEM TO THE SMITH COUNTY HUMANE FACEBOOK PAGE OR EMAIL TO SHENIA@SMITHCOUNTYTNHUMANE.COM
*Completion of the application below does not guarantee your adoption will be approved and does not HOLD an animal you are interested in. Applications are reviewed on a first come first serve basis, and applicants are interviewed to find the BEST home for the animal in question. We WELCOME anyone to apply to adopt, and we will do our best to work with you to find the BEST fit for your home. Please NOTE, we have MANY that may not be listed on this page. We try to keep it as updated as possible, but availability changes daily. We usually have over 30 cats in care and dogs vary. PLEASE if you are interested in adopting and do not see someone today you are interested, complete an application to get pre-approved and as soon as we have a match you will be first in line! 
Smith County Humane can always use good FOSTERS too! Fostering is a great way to help an animal in need while looking for the perfect fit for your family! IF you are interested in fostering, complete the foster application HERE. 
NOTE: ALL DOGS/CATS Adopted from Smith County Humane WILL BE SPAYED OR NEUTERED before adoption (unless not sexually mature) under Tennessee Law. If the dog/cat is not of age or size to be spayed or neutered, a spay/neuter contract and deposit  will be required as per Tennessee State Law or the animal would remain in foster to adopt status UNTIL spay/neuter is completed. ALL Dogs/Cats will be vetted, be up to date on vaccinations, have current rabies shot before going to their adoptive family. 
Thank you for choosing Smith County Humane! 
Find your Next Furry Friend by Adopting TODAY!
Available Canine Companions!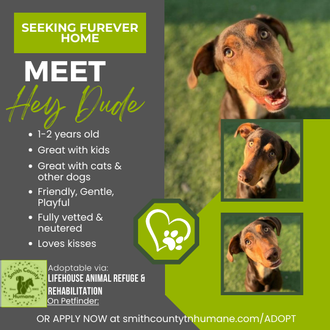 HEY DUDE
I'm told I've had not one bit of interest! I'm literally shocked!! I'm fully vetted and neutered! I'm a fellow and about 1-2 yrs of age. Just finished my last rounds of heartworm treatment and really would love a home!! I get along great with dogs of all sizes and children. I was dumped off at a house with over 30 cats so cats are my friends as well! The rescue ladies believe I'm some sort of a Doberman and Hound mix. I let them know quick that I'm 100% a good dog!! Please share to help me find a home with love and affection as well as walks or play time in the yard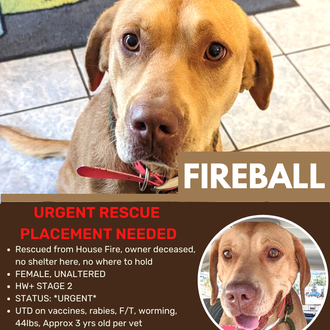 FIREBALL
Seeking Adopter, Rescue, or Foster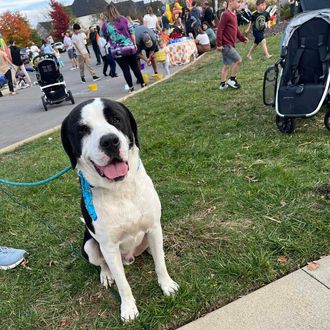 HERCULES
ADOPT ME A big ole hunk of Hercules
Foster or Foster to Adopt ALSO available for Hercules! 
Bio Coming Soon!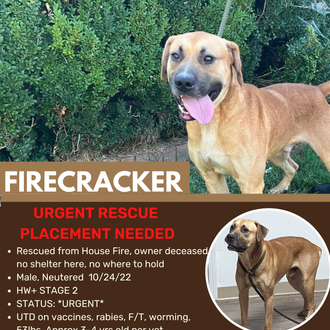 Firecracker
Seeking Adopter, Rescue, or Foster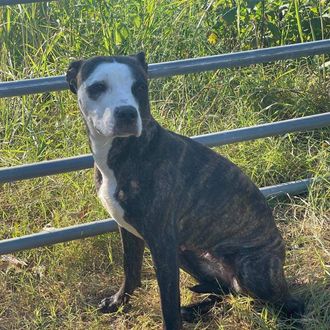 SNOW
RESCUE COMMITTMENT, FOSTER, ADOPTER NEEDED!
With Finder, IN SEARCH OF RESCUE, FOSTER, OR ADOPTER.... Snow was found by a resident injured and roaming at large, appears to have possibly been thrown from a vehicle. Snow is now recovered and unfortunately the finder is unable to keep her. She is in desperate need of a place to go and we have no available space. Finder reports she is not good with her dogs, but we have not been able to assess her at this time to determine ability to be with other dogs. If you have room in your heart please consider giving Snow a second chance at life. 
Feline Friends available at Pet Supplies Plus Adoption Center, Mt Juliet TN
Barn Kitties Seeking Employment!
Kitties Looking for their Fur-ever Home!